Coming down to the wire guys…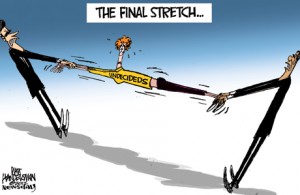 Go  here for the Friday  November 2 podcast by Mr. Wood updating the 2012 Presidential Election.  Go to this link for accurate up-to-the-minute polling data on the election at Real Clear Politics.com.
Also don't forget:
Monday November 5   – You need to have logged ten volunteer hours (and show Mr. Wood on Monday) in order to work on Election Day – Tuesday November 6.
Tuesday November 6   – Election Day!
Go here for all information involving Extra Credit Election Volunteering.