Go to pages above for more  Selma Civil Rights Tour information.
Mandatory Meeting in Mr. Wood's Room @ 7:00 PM on Wednesday, December 5 for travelers and parent.  This meeting will not last more than 45 minutes.  Parents need to know the final costs and $50 deposits must be paid.  
First the bad news – it looks like the flight costs will be about $100 more than expected.  I have been calling various airline group sales and the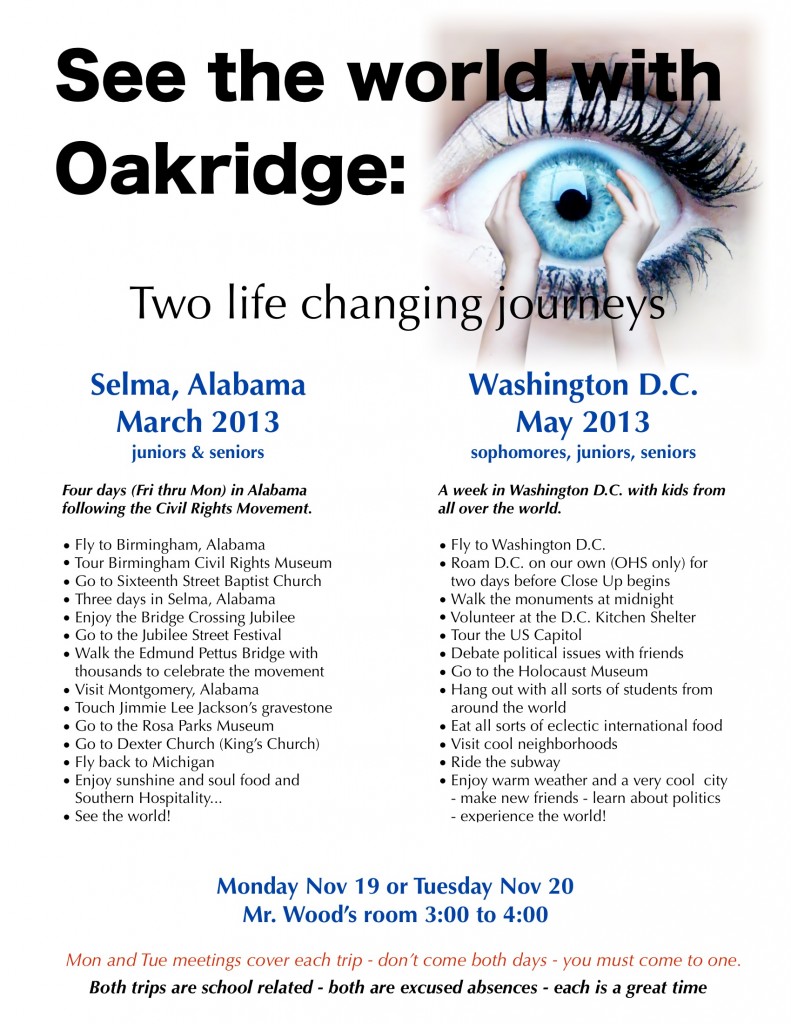 best airfare I've found that fits our schedule is $360 which makes it $430 with tax.  Taxes are way up, flight availability is down, that makes prices worse for us.  I checked group rates at all five major carriers.   Adam Smith and the invisible hand could use a little dose of Karl Marx on this one.
The good things are as follows:  Van rental is almost the same as three years ago, so that part of the equation is virtually unchanged.
Flight times in and out are pretty good as are the rules for deposits and such.  The best I've gotten so far takes us out of Grand Rapids instead of Detroit, and although its a bit early in the morning we can be in Birmingham before noon.  So here's where I'm currently at:
United Airlines
Flight out of GR 6:00 AM Friday March 1
arrives in Birmingham, AL 8:43 AM
Flight out of Birmingham 5:09 PM Monday March 4
arrives in Grand Rapids 11:11 PM
Cost – $430 (all tax included)
Deposit of $50 due by December 7
deposit is refundable until December 31
remainder of the $430 cost of the ticket is due January 30
Increase in airfare cost gives us a final total trip estimate of $655.
Consequently – we need to talk.  Meeting in the cafeteria during Channel One on Monday November 26.  We need to make sure with these deadlines in place that your folks understand the issues, so we will need a parent meeting prior to December 7 as well.  Bring your schedules with you.  And finally, I am sending out a group email today.  If you don't get it – see me…we need to be communicating.
Turkey day is over.  Time to get back to work.  See you Monday.
mrw