Civil Rights Movement – Independent Study
Let the Trumpet Sound – Read pages 53 to 109
Assignment #2 – Montgomery Bus Boycott

You are to post your google docs assignment by the below due date.  Be prepared to fully explore the topic on that date.  You will be graded on your discussion input on that date (30 pt possible)
Google Docs Post – TBA
Discussion – We'll do this one online TBA
If you are reading along and posting for extra credit – your post is also to be up by the google docs post due date.  Contact me if you have questions.

1 – Brown, Till, and the Montgomery Busses

At the same time King moves to Montgomery a lot of events begin to unfold.  Each will have an influence on how he sees the movement.  Talk about how the death of Emmitt Till, and passage of Brown v Board affect King.  And take a good long look at the Montgomery City Bus rules.  What are your thoughts about these rules?2 – The Montgomery Bus Boycott
2 – The Montgomery Bus Boycott
The actual events of the movement are high drama.  Moves and countermoves – black Montgomery / White Montgomery.  Talk to me about the following events:
• December 2, 1955 – the Park's arrest.
• December 6, 1955 – rally at Holt Baptist Church.  King's speech.
• Makeshift carpools in an attempt to get folks to work.
• Klan reaction in Montgomery to the boycott.

3 – Allies in the Boycott
Sometimes we get to thinking the Civil Rights movement was Martin Luther King Jr.  And everybody else just followed along.  That is so far from the truth.  There were little guys and big guys who spurred on the success of Montgomery.  Explore King's relationship with three people.  Rosa Parks, E.D. Nixon, Ralph Abernathy.  Talk to me about each of the three and their unique relationship with King.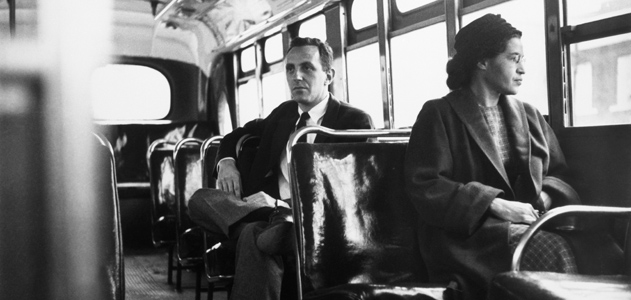 Eyes on the Prize
video series is the bible for the Civil Rights Movement.  This is great stuff…a series of six one hour videos that chronologically moves through the movement.  To get the full force of the this book and to prepare yourself for the Selma trip, I suggest that you watch these videos 
after
 you do the reading.  Please stop by and borrow my copy of the series –
Part One – Awakenings 1954 – 56
includes the Montgomery Bus Boycott.  Take a look; it will significantly raise your awareness of the movement.