Girl Rising will be playing at Cinema Carousel in Muskegon at 7:30 PM on Thursday, May 9.  
Ten tickets (possibly more) have been donated for Oakridge students to attend Girl Rising.   Tickets will not be sold at the door.   In order to go you must purchase a ticket online for $10 with a VISA card.   Talk with your mom – your dad – your friends – and invite them to join you in a truly inspirational and emotional experience.  If you would like to donate $10 for the cost of a ticket to be given away to an Oakridge student please contact me at bobwoodmsu@gmail.com.
Please go here to find out how to win a free ticket for Girl Rising or to buy a ticket if you don't own a VISA card.
Go here to find the website (and movie trailer) for Girl Rising.  Go here to order tickets for the May 9 showing.
Read excerpts of the movie review below by John Belfuss of the Memphis Commercial Appeal. Go here for the full review.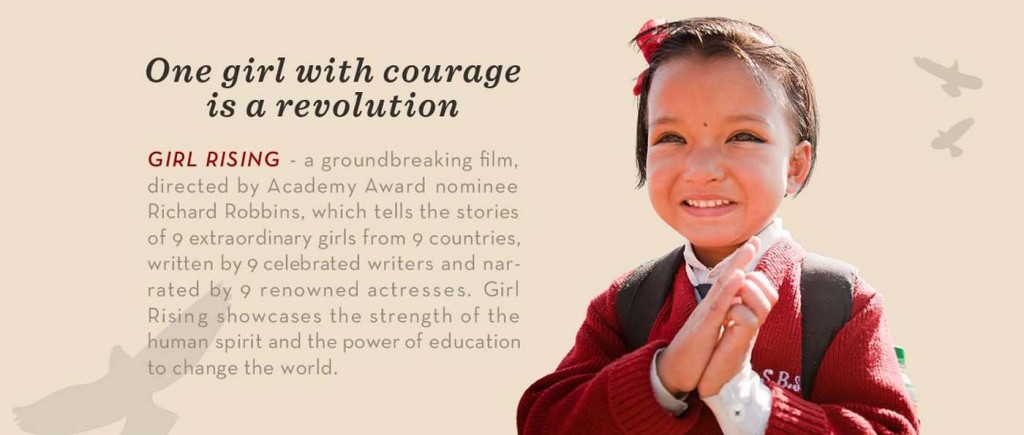 If ambition, purpose and potential impact netted Oscars, "Girl Rising" might be the most honored film in Academy history.With statistics backed by international research studies, "Girl Rising" argues that educating girls and young women is the single most important factor in a country's economic development and security."
"Girl Rising" is divided into nine portraits of girls around the world who have been subjected to child slavery, sexual assault, natural disaster, forced marriage and other traumas. Discovered and selected during some three years of prep work by the filmmakers, each of the featured real-life girls told her story to a woman writer from the same part of the world, who scripted the story for the film.
In Port-au-Prince, Haiti, for example, a young girl who loves learning is unable to continue her education when her school is reduced to rubble in the 2010 earthquake, and her parents can't afford to send her to the remaining private school.
In Nepal, a 6-year-old girl is "bonded" to a master. In Cairo, a girl is raped, and we are told that 50 percent of the world's sexual assaults are committed against girls under 15.
Hidden beneath a burqa, a young Afghan woman offers perhaps the most desperate testimony. "If my husband heard these words, he might kill me," she says. "So might my father or my brother or any one of thousands of my countrymen. Killed because I want to learn — killed because I want to read."
"The film was shot all over the world, and the photography is stunning. Memorable locations include a mining town in Peru that is "the highest human habitation in the world," perched at 17,000 feet on the side of a dead volcano in the Andes, and a vast garbage dump in Cambodia, where a young "discarded" orphan girl — "one more thing the world has thrown away," according to the narration — survives by finding marketable scrap metal in the trash; she is "hunting the rot for glints of light," we are told.
When you go out in the world and meet these kids, they are not feeling sorry for themselves," Yellin said. "They are striving to make the best of their lives. Their heroism is very compelling." Or, as narrator Liam Neeson states in the film: "Girls are not the problem — they're problem solvers.
Please check with Mr. Wood at bobwoodmsu@gmail.com or here at the blog if you have any questions.