Please go here to download a copy of the assignment.  Write your answers on this paper.  . 
We've spent a lot of time in Economics reviewing the "Cost of the College" and credible options in paying for it.  Many of you have done a very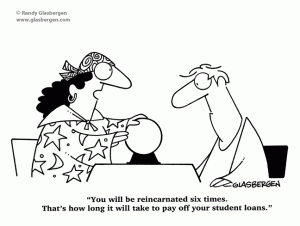 very good job.  One thing that we have not addressed however, is the significance of teamwork between you and your folks.  This college thing is huge.  It's expensive.  It's probably the most significant financial decision that you will make in your entire life.  Things that big you do not do on your own.  You need to work with mom and dad.  The more you know, the more they know, the more you communicate with one another – the better chances for success.  With that in mind I am offering you an extra credit assignment that includes – you and them and both of you working together.
This assignment can serve as a 5% bump on your marking period grade.  That means after your grade is totaled I add five percent to the final grade.
sit down with mom or dad (both would be best) go to the blog…
Go

here

to access all of the podcasts.
listen to each podcast on the post.  None is over 4:00.
talk about the individual podcast with your folks.
note anything in the appropriate blank that you talked about.  Anything…maybe it was a discussion.  Maybe you knew the information already.  Maybe you didn't.  Whatever you talked about note it in the proper spaces.
That is it!  You sign it.  You date it.  Have mom or dad sign it.  Have mom or dad date it.  And turn it into Mr. Wood for full credit.
Remember the most important relationship in this entire college funding ordeal is you and your folks.  Maybe this assignment can build a few bridges in that direction.