Senior Current Issues is off to Chicago – Saturday February 1 – to celebrate Groundhog's Day.  Stay tuned for details…  Get the day off from Work.   We need Drivers.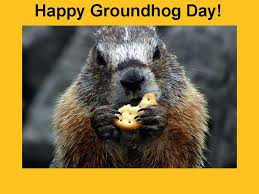 YOU ARE INVITED – to Chicago Saturday February 1
We leave Grand Haven at 8:00 AM EST
Take the 9:27 AM CST train from Michigan City
Arrive downtown 11:00 AM CST
Bad weather return trip 6:22 PM CST (arrive Michigan City – 8:12)
Back to Muskegon by 11:00 PM.
Good weather return trip 9:15 PM CST (arrive Michigan City – 11:05)
Back to Muskegon by 1:30 AM.
Mr Wood's tele – (616) 402-8668
Hey guys…we are going to celebrate Chicago's second greatest holiday – GROUND HOGS DAY.   We meet in Grand Haven (8:00 AM.)  We carpool down to Michigan City, Indiana.    And then we take the Southshore line train into the Windy City ($8.50 one way).  It drops us smak dab in the middle of town – directly under Millennium Park. We head up the stairs and scatter.  Go where you want.  Have a great time.  Meet back at the train – the return time will depend on weather and plans.  We will confirm return time prior to going – so parents will know times before we leave.