OK guys…we got a lot of work to do in the next two weeks.  I expect you to be communicating regularly,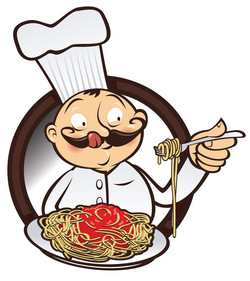 answering emails, checking remind 101, organizing your groups, and to make sure that you know what your responsibilities are.  Everybody is involved in organization of one of four groups.  And I expect that all of us have Friday, April 21 open for work on the Spaghetti Dinner.  Due Dates and organizational charts below.
1 – Silent Auction  (Hunter and Shannin) – Flyer
Really important that we meet deadlines on this one.  Thru next week we will accumulate things…you two need to be talking with all other travelers (and Grandma) so that by Thursday night March 14 we've got it all turned in.   I need everything logged in…which means – identify the item, name and address of the business, and note the value of the item.  Send that information to me on Word Document by Thursday night.   I will type these up on a single sheet, and you two need to get them up and on a large white board – side by side by side – so that we can post it and have it hanging at the start of the school day by Monday March 17.  I'll circulate the board around to the various teachers's lounges through the week.  I'll also post online throughout the week.  On Friday at the Spaghetti Dinner, and at intermission of the play both nights we need somebody to man the board and talk with people about the specifics of the silent auction.
2 – March 17 thru 21 – Cookie Sales (Xavier, Kelly, and Skylar)
OK guys – you got one week to sell a ton of cookies and stuff, and still have a zillion items left over for Friday's dessert menu.  Make sure you plan this stuff well.  We don't want to have nothing to sell at the Spaghetti Dinner so you may want to stagger your baking times.   Make sure by Tuesday that everything is priced and ready to go.  You have the walled in sales area for the entire week.  Pick up the cash box from me before first lunch-  bring it back at the end and then pick it up again at the start of second lunch – bring it back at the end of second lunch.  Don't leave the cash box in the sales room – and post a work schedule with it.   We need two people to work each lunch.  I can give you a pass to get out early each day.  Finally,  everybody is making cookies – so talk to fellow travelers and plan accordingly.  Get posters up for this next week.
3 – March 21 – Spaghetti and a Show (Shannon, Neki, and Melinda) –flyer

I'm counting on you guys to be very well organized without my help.  You know what to do…I don't.  However, some suggestions…talk with me on food donations, so I know what we don't have by gametime – so that I can go out and buy it on Thursday April 20.  Also talk with E & A Grocery to announce it on their sign (maybe for the week?).  Talk with the Muskegon Chronicle to post in the paper.  Get the time and the date and specifics up on Facebooks.  Make sure we have a lunch lady scheduled in.   Talk with all travelers and make sure that they have times scheduled for work.  We all need to be working on this one.  Finally, don't forget that this includes clean up.
Special Note – We want to pre sell as many tickets as possible.  I'll make up a flyer and a ticket page – and give you guys tickets for sale this week, so that we can get that moving.  We'll also sell at the door.  Somebody – maybe the person in charge of the Silent Auction can handle door sales.  Talk to me and them – so that we all know our duties for the night.
4 – April 21 – Buffalo Wild Wings  (Davis and Breanna)
This thing has potential.  We get 20% of  April 21 sales at Buffalo Wild Wings – of all the people who carry a coupon from Oakridge Close Up into the restaurant (booze included).  What we take in  will directly depend on how many coupons we get out there.  So…the key is to get the word out.  You guys must contact BWW and get our flyer  before the Spaghetti Dinner.  That way we can hand 'em out at the dinner; is somebody supports us for the spaghetti dinner, maybe they'll do the same at Buffalo Wild Wings.  Your job will continue past Friday night March 21.  You're going to need to contact E & A Grocery and the Chronicle and Facebook and anywhere else to get this thing announced.  Solicit ideas from other travelers and talk to me.  We don't want to really start spreading the word until three weeks before the event.  We do however, want flyers to hand out at the play and spaghetti dinner.