Well, we did it!  I didn't think that it could be done…but you all did such a nice job.  You worked hard.  You had a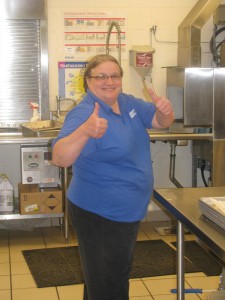 good time.  No whining; just working.  I'm impressed…
Make sure to thank everybody who made it happen…starting with the cooks!  Come on – thank em every day until we go…and then buy em a DC Kitchen T-shirt for providing us the kitchen experience.  And of course Mr. Lohman for unleashing the entire girls' soccer team.  Jennie Craine and Bre Ferguson and Christina Springsdorf were a great help!  I know I saw Mr. Green and Mrs Baijrano and Coach Harger and Mrs. Arch and Mrs Lutrull and Mr. Lohman and Mr. Addicator and Mrs. Beets  scarfing spaghetti.  Thank all your friends who bought tickets and all the teachers who bought em, even though they couldn't make it.  And of course we must recognize the relentless efforts of Hunters' grandma who got the ball rolling.  And to Kelly's mom – thanks for your kind donation.  Cole's bakery donated all the crazy good garlic bread and Jarrod Shankel at E & A provided sauce and spaghetti.  And Hunter Giles even made it to the festivities…Thanks to all!
So…we made some money.  Looks like 150+ tickets – that's $900.  Minus ONLY $75 for food stuffs.  We made $65 in dessert donations.  The cookie sales topped $125. And it looks like we'll clear $900 on the silent auction as well.  Pretty good job guys.  Pretty well done!  I'm impressed.
So, this is what I need from you…while my initial reaction is to just split all the money up equally, I did say that I would deal with this in capitalistic fashion.  You all provided Economic Action Plans.  Now I want you to send me follow up Google Docs plans – in each, tell me what you did.  And tell me the grade that you believe should receive for your efforts.  70%  C – 80% B  – 90%  A- I want specifics.  Convince me of your efforts.  Also, if you believe an individual student went above and beyond – tell me who and tell me why.
So there you go.  The Silent Auction ends on Tuesday / Hunter and Shannin you still have work to do.  We have the Buffalo Wild Wings Fundraiser on April 21.  And there's always Gordon's chocolate candy.   Best of all May 3 is fast approaching.
Thanks.