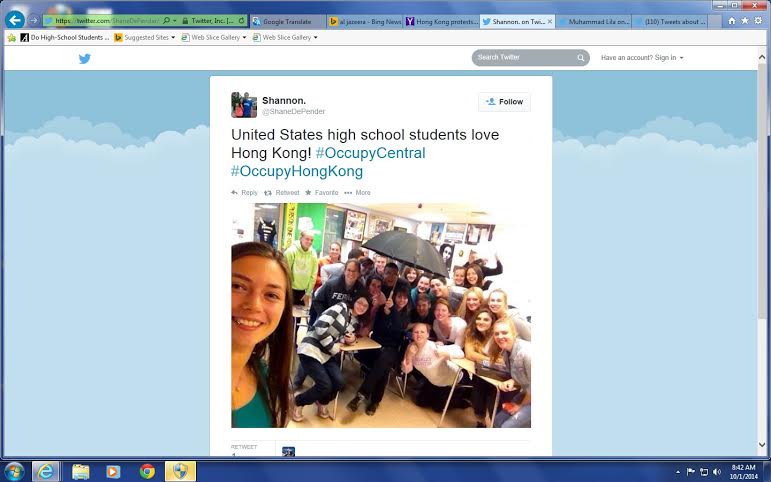 Please go here  for Friday October 3  Assignments.  
 Wednesday, October 1 – in Senior Current Issues – we used Twitter, Snap Chat, Facebook, and Fire Chat to connect with Chinese students in real time in Occupy Central in the main square of Hong Kong.  8:00 AM Tuesday in Muskegon is 8:00 PM Wednesday night in Hong Kong.   The kids are out there fighting for democracy.   We were there with them.  We tweeted them our photo of support…and spent the hour talking with and learning from and posting with those courageous students from the umbrella revolution.  We love you Hong Kong!
There is something going on in this world people.  And it is being driven by  students.  Different issues, in various regions of the world; young people are beginning to challenge the system.  Bricks in a wall they are not.  Social media, twitter, Facebook, Snapchat, Firechat is spreading the message.
There will a tipping point when you too, will have had enough and question a system that impedes your opportunities for the future.  It may be the cost of college that pushes that envelope; it may be something else.  But change is in the air.  Stop.  Look.  Listen….
Let's educate ourselves to the events playing out on the coast of China in Hong Kong.  Let us learn…
The Umbrella Revolution…
(9/2/14)

Democracy Now

– 8:00 – very good overview /interview
(9/29/14)

Huffington Post

– cell phone video captures tear gas chaos
(9/29/14)

CNN

– 2:37 – live on the streets
(9/29/14)

The World

– 4:08 – radio interview live on the streets

NPR

– news – Firechat connecting with or without cell towers
(9/30/14) –

BBC News

– today video top of article / down the page great short video – Martin Yip "a day in life of protesters"
(2/29/30) –

Wall Street Journal

– 55:00 video walk through Hong Kong central district

Facebook posts

from Hong Kong – check translations
Hong Kong – "Despite presence of inhabitants in Imperial China, the idea of modern Hong Kong, including its name, geographical and cultural make-up, owes much to the developments during the 155-year British rule. Hong Kong became a colony of the British Empire after the first Opium War (1839 – 42).  The region espoused minimum government intervention  during the colonial era.  The time period greatly influenced the current culture of Hong Kong and the educational system which used to loosely follow the system in England. As a result of the negotiations and the 1984 agreement between China and Britain, Hong Kong was handed over to the People's Republic of China on 1 July 1997, under the principle of "one country, two systems" It has a different political system from mainland China."  from Wikipedia