ASSIGNMENT DUE DATE – Tuesday November 25.
For all things college – go to our website – building a better world.net.  Please go here for extra credit assignment in discussing this material with mom and dad.  Go here for College Talk Review – "Podcasts and Websites"
It isn't just about deciding to go to college.  It's about choosing the right one and planning for the cost.  A two or four year collegiate degree can be expensive.  If you aren't smart about the process you can be saddled with debt that will last long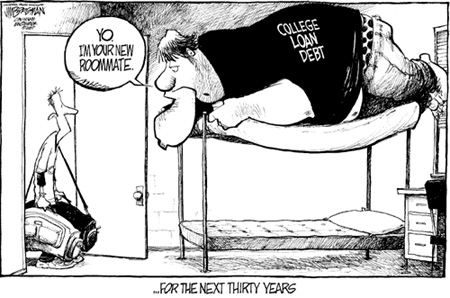 into your adult life.  The key then, becomes, figuring out how to navigate the mind field of college costs; and making it to the finish line without mortgaging your future.
The most serious mistake you can make in this entire college challenge is to sign on every dotted line and take out every loan that comes across your plate.  The second biggest mistake is to fear debt so much that you don't go to college.  The key is to go eyes wide open, to learn all that you can learn, and to make wise decisions.  That and apply for as many loans and financial aid as you can get your hands out.
You can do this if you are smart about it.   Good luck:)