We leave at 4:00 PM from OHS Parking Lot on Thursday, March 5.  We leave from Chicago O'Hare back to Muskegon on Monday March 9 at 7:52 PM.  Drivers and cell are noted below:  Any questions please contact Mr. Wood.
Eating Pizza Thursday night in Chicago – Wicker Park – Dimo's.
Southern Fried Eatin in Birmingham on Friday – at Z's.
We are all gonna get FAT!
Bob Wood – (616) 402-8668  & return  (4 driver included)
Randall Green – (616) 502-2400 & return (4 driver included)
Sheryl Swainston – (231) 343-3226 & return (4 driver included)
Rachel Johnson – (231) 638-7104 & return (6 driver included)
Chris Wall (231) 750-6232 & return  (McKayla & Davis)  /&  Georja
going – Brian Schaub (231) 288-9254 (Tyler, Ivy, Kaitlyn, Dorian)
return – Perry Thomas (231) 670-2150 (3 students)
return (emergency backup) – Dave Vandervort (231) 638-6989
Important – Go here for Final Itinerary for  Civil Rights Tour.  Note – there is a change (as of 3/1/15) on the Chicago hotel for Thursday night.  Please see itinerary.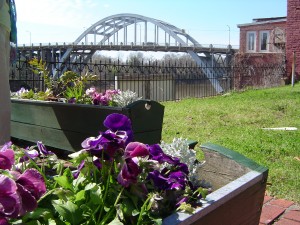 Muskegon Chronicle 2009 Coverage of our trip to Selma, Alabama.
Oakridge juniors and seniors to be – March of 2015 – will have the opportunity to travel to Selma, Montgomery, and Birmingham Alabama to walk in the steps of those who waged the war for freedom in the Civil Rights Movement and participate in the Bridge Crossing Jubilee's fiftieth anniversary of the events of Selma, Alabama's Voting Rights March.  This will be our fifth  trip from Oakridge to Alabama.  We hope to meet with Congressman John Lewis, tour the sights of Birmingham, Montgomery, and Selma and to participate in the Bridge Crossing Jubilee.
We had 20 travelers on our 2009 trip.  Many of the students recorded a podcast of their experience.   Those mp3s are posted below.  You can also check out the slideshow of photos of that trip.  It will give you an idea of what awaits us down in the southland.  So, mark those dates (first weekend in March) on your 2015 calendar.  The experience will impact you in ways you now don't even know.
As for you all who went back in 2009 – I look at the names and faces and I see you out there doing great things.  Stay awake!  And continue to influence this planet with your talents and your passion.
Stay tuned – and tune in below.