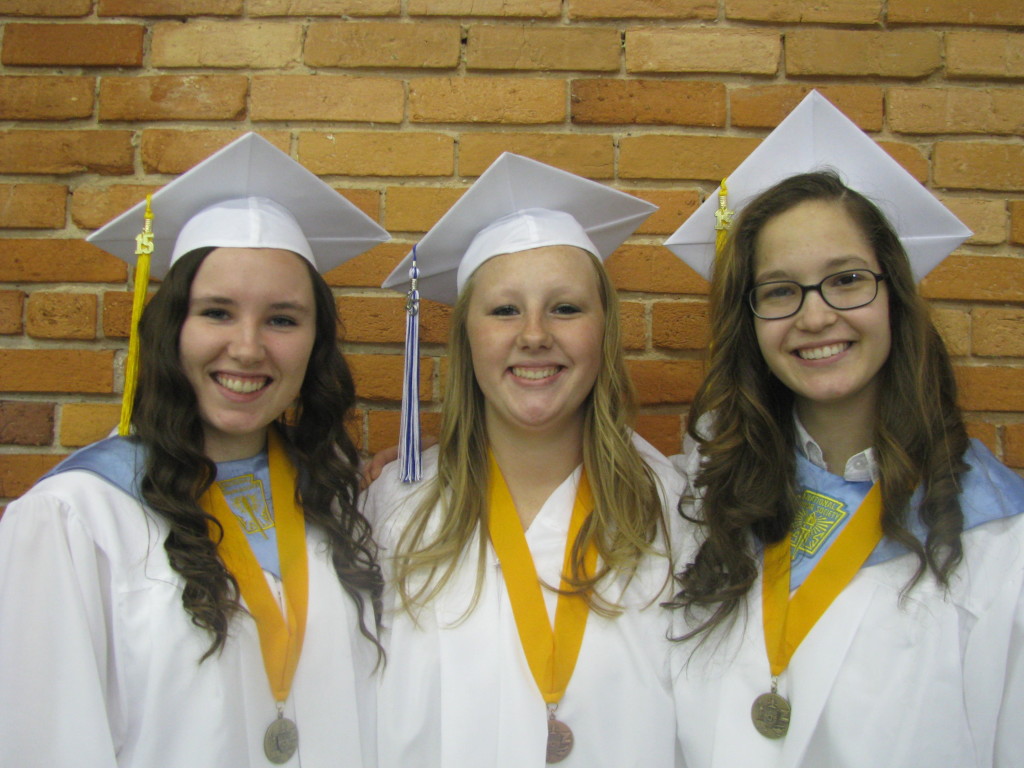 We are proud to announce the 2015 Building A Better World Scholarship Winners.   Each of the three Oakridge Seniors will earn a minimum scholarship of $1750.  We are still in the process of taking donations for this years winners; in fact it would be great if we raised enough to give each student $2000.   Please go here to learn more about the history of our Scholarship.
Please go here for a fine video of this years winners created by Dominique Jessen, one of last year's winners. 
If you would like to donate… we have a number of options open to you.
MOST IMPORTANT – don't worry how much to give ($10, $20, $30, $100 – any amount)  It's that you join us that matters most.  We want your support more than your cash…but we need that too!

You may now donate online

 with a secure credit card donation on this website via PayPal.
or by check made out to  OEA Building A Better World Scholarship and mail it to Oakridge High School – 5493 East Hall Rd – Muskegon, MI 49442.  or contact Bob Wood at bobwoodmsu@gmail.com or 616-402-8668
Below, please meet our 2015 Scholarship Winners:
Paul Shay is our 2015 Community Involvement Scholarship Award Winner.  Paula won a $1750 scholarship for her past efforts and future plans for Community Involvement.   She was involved in student groups and politically active at shaping Oakridge High School over the course of her four year career.  2nd in her class, she served as a member of National Honors Society in her junior and senior years.  She was a member of the OHS Marching Band and Concert Band for three years.  She was a member of Honors Jazz Band as a senior.  In the Spring of 2015 Paula successfully challenged the OHS graduation dress code, that required girls to wear dresses to commencement.  Paula has always stood for causes dear to her heart.  Paula will be attending Western Michigan University and Lees Honor College in the Fall and studying business.  Congratulations Paula.  Please go here to read highlights of Paula's winning essay.  Please go here to learn of Paula's successful challenge of the OHS graduation dress code.
Victoria Mueller is our 2015 Independent Travel Award winner.   Victoria won a $1750 scholarship to help pay for her trip next summer to Thailand. S he has always dreamed of traveling and now gets to visit her two friends, Toon and Bam, while in Thailand. This will be her first trip outside of the United States. Victoria was the Valedictorian of her class and served as President of National Honor Society. She was an active member of the Oakridge marching and concert bands, including being color guard captain for two years. She participated in yearbook for three years, and student council and drama club for one year. In the fall, Victoria plans to attend Muskegon Community College where she will be a part of the concert band. She then plans to transfer to a four year university to obtain a degree in elementary education.  Congratulations Victoria.  Please go here to read highlights of Victoria's winning essay.
Ivy Lewis was selected as our 2015 Global Awareness / Independent Travel Scholarship winner.  Ivy's situation was unique in that she had two winning entries chosen by the selection committee.   Ivy will choose between a  $1750 Global Awareness College Scholarship or use the $1750 to travel this summer to Broadway in New York City.   Ivy graduated 19th in the Oakridge Class of 2015.  She was president of the 2015 Oakridge Student Council.  She was an active member in the OHS drama club and participated in every show that the drama club put on in her four year high school career.   Ivy is a participant in the Early College Program at Muskegon Community College and traveled to Chicago with AMUN in November of 2014.  She also traveled to Selma Alabama in March of 2015 for the 50th anniversary of the Edmund Pettus Bridge Crossing and signing of the Voting Rights Act of 1965,   Ivy plans to finish up at MCC next year and then transfer on to Central Michigan University for her Bachelors Degree. Way to go Ivy.   Please go here to read highlights of Ivy's winning Global Awareness essay.  Please go here to read highlights of Ivy's Independent Travel essay.
Thank you to Sheryl Swainston, Pat Schroeder,  Trisha Lowrey, Melissa Anderson,  Alicia Parker, Kim Nelski, Jeff Lohman, Katie MacPherson, Bob Wood, Dominique Jessen (2014 winner), Lyndsey Gibson (2004 winner) for serving on the 2015 Building A Better World Scholarship selection committee.