CHICAGO TRIP UPDATE for THURSDAY DECEMBER 22…
You must contact Mr. Wood if you are intending to go on this trip.  If you do not contact ME – then you cannot go.  I will fill seats in first come / first serve order.  And we are inviting past Senior Current Issues students to join us…so the seats will fill up fast!  Don't be left standing parking lot waving good bye to us 🙂
I will link this to Facebook – and Schoology – and now its up to you all…to get organized.
We leave OHS parking lot  at 6:30 AM EST.  Be there at 6:15.

Take the  8:37 AM CST train from Michigan City.  (9:37 EST)
Arrive downtown 10:28 AM CST

Return trip 7:10 PM CST (Michigan City – 9:04 PM CST) 

Back to Muskegon by midnight.

Mr Wood's tele – (616) 402-8668
Mr Wood's email – bobwoodmsu@gmail.com
Permission Slip..you do not need to redo this if you did one for Saturday. 
A Change in plans for Travelers.... Merry Christmas to the skippers…you can come with us if you'd like to.   You are however at the tail end of the list if we do not have enough drivers.  Don't tell anybody it will ruin my reputation as Ebenezer Scrooge
Please go here for a letter regarding the Oakridge skip day of November 28 and our Holiday Trip to Chicago.
What I will need – is EVERYBODY who is going – And that means those of you who said that you were in for Saturday – must email me.  And confirm that you are going – even if you did so for Saturday 17th.  If you did not confirm prior you must do so now – but you can still go – plans have changed.  The key here is communication – I need to know exactly how many travelers we will have before we show up at the school on Thursday morning.  So, get organized.  Talk to your buddies.  Get back with me at bobwoodmsu@gmail.com or call at 616-402-8668 to confirm.  
Hey guys…its the holiday season, which means its time for Senior Current Issues (and all the foreign kids) to make the Christmas trek to Chicago.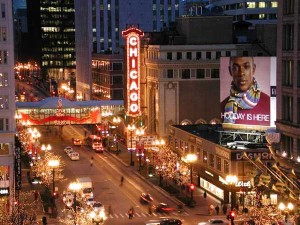 Every year we do this…and every year we have a great time!  We meet in Grand Haven (8:00 AM.)  We carpool (no student drivers) to Michigan City, Indiana.    And then we take the Southshore line train into the Windy City ($8.50 one way).  It drops us smak dab in the middle of town – directly under Millennium Park. We head up the stairs and scatter.  Go where you want.  Have a great time.  Meet back at the train – the return trip will depend on weather and plans.  We will confirm return time prior to going – so parents will know times before we leave.
We have drivers – 22 available seats
Mr Wood – School Van – 7 seats

Mr. Frechen – School Van – 7 seats

Mr. Lohman – 4 seats

Mr. Taylor – 4 seats
Me and Mr. Lohman and friends always take the El to our friendly little Thai Restaurant in Lincoln Square; its on the Brown Line  about three miles from Wrigley Field.  We roam around up there for a bit and head over to Andersonville (another cool city neighborhood)…then we take the Blue Line back downtown in the afternoon after it starts to get dark. We finish with a stroll down Michigan Avenue with all the Christmas Lights.  You can come with us…or not come with us…or come with us for awhile.  You may even spend all day at the German Christkindlmarket with the Germans.  Do as you wish.
And if you need a list of Holiday things to do…here you go.
We've been going for fifteen years.  The trip is approved by High School Administration and the Oakridge School Board. And its a wonderful time..  We've always opened the door for Senior Current Issues students, all of the exchange students, and friends of both groups – all you need is train fare and a signed permission slip.
Go here for student permission form
All drivers must sign

a

dult driver

 waiver.
Cool stuff to do in Chicago…