Nick Baumann, senior editor for Huffington Post,  a well reputed national news site, is coming to Oakridge High School on Friday November 10, from 8:00 to 9:30 AM to visit with Oakridge students about issues of the world. 
Mr. Baumann has written pieces for Washington Monthly, The Atlantic, Slate and Commonweal. He also has blogged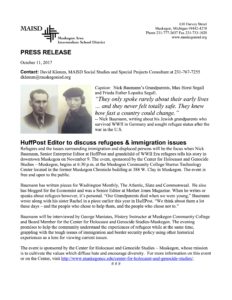 for the Economist and was a Senior Editor at Mother Jones Magazine.  Refugees and the issues surrounding immigration and displaced persons will be the focus when Mr. Baumann tells his story in downtown Muskegon on November 9 – to commemorate the opening of the MCC downtown campus.  Baumann's grandparents were Jewish refugees in World War II Europe and emigrated to the United States following the war.  
"Our Grandparents died when we were young," He wrote along with his sister Rachel in a piece earlier this year in HuffPost. "We think about them a lot these days – and the people who chose to help them, and the people who chose not to."
Nick Baumann is visiting only two classrooms in Muskegon County. 
One of them is ours.  He will visiting our school on Friday morning.  He is anxious to hear what Oakridge students think about the world; and to share his stories.  And while we will use the Auditorium as our venue, this event is not a speaker on a stage with an auditorium packed to the brim.  Rather the event is planned as an informal and friendly discussion.  My hope is that Mr. Baumann takes a chair below the stage; with students occupying the first few rows only.  You will be encouraged to ask questions and share your thoughts, about whatever issues you feel appropriate.   This is a wonderful opportunity for you to learn from a man who is very well connected in this world, and through his grandparents, with the past. 
Mr. Green's AP English class and Mr. Wood's Senior Current Issues Classes are expected to attend the event – hosted by Oakridge Close Up.  Mr. Wood has also opened the door for juniors in his Economics and Government classes, as well as any Close Up participant who would like to join us – to apply. 
If you would like to attend the 90 minute discussion – school excused – please share with Mr. Wood a google docs request (bwood@oakridgeschools.org / or through schoology assignments) by 11:59 PM on Tuesday November 7.   First read the flyer linked here, and look through Mr. Baumann's  Huffington Post bio,  Then write 150 to 250 words on the following topic…  
Why I would like to join a discussion with Nick Baumann on November 10…  I expect a well written and edited request.  I will make the evaluation on whether your application is accepted.  There is no limit to the number of students who may attend.  I will respond to your post by 9:30 AM on Wednesday November 8. As noted above, this is a school sponsored event; your absence from any classes during the discussion is excused.
I look forward to hearing from you.