"In like some horrible way he was a puppet come to life, he was like a plaything of the empire that turned around and said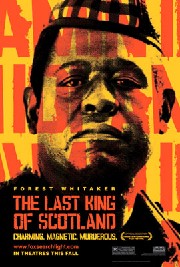 "boo!"
Movie Review below – Amy Blancolli Houston Chronicle
The Last King of Scotland is a film so good, about a man so monstrous, that its shortcomings seem less like flaws than highlights devised to increase the horror. The puniness of one character emphasizes the sickening power of another. The exaggerated swing of the plot — from pool-party frivolity to repugnance and dread — intensifies the savagery of the climax.
Even the movie's dog-tired dependence on a white protagonist to illumine black history clarifies the dangers of being complacent, of feeling all too comfortable while atrocities occur. When the movie finally shows those atrocities, their lurid overstatement plays up the ugly import of the story.
How obscene it feels to say so, but Forest Whitiker's Amin is a much more likable fellow. He is first of all charming, second of all chilling, third monumental, and he is all three things at once. See the movie for Whitaker alone: He's possessed by evil and possesses it wholly, rendering the film (and everyone in it) his plaything.
We will do a google docs assignment – but don't worry about until the end…just watch this movie and be amazed!
Two links that will provide you a little background on the movie and the maniac.