Assignment Reflection Cover Creation (Front and Back) – due Monday September 22.  Assignment is worth fifty points.
We will try something new this year – Reflections – it will be tied solely to your black and white composition book.  At unannounced times through-out the week, hopefully two or three times, you'll be expected to write in your journal book for the first ten minutes of class.  You are required to bring that book daily.  On the days in which you have an assigned reflection, the topic for reflection will be posted on the front white board as you walk into the room.  On days that you are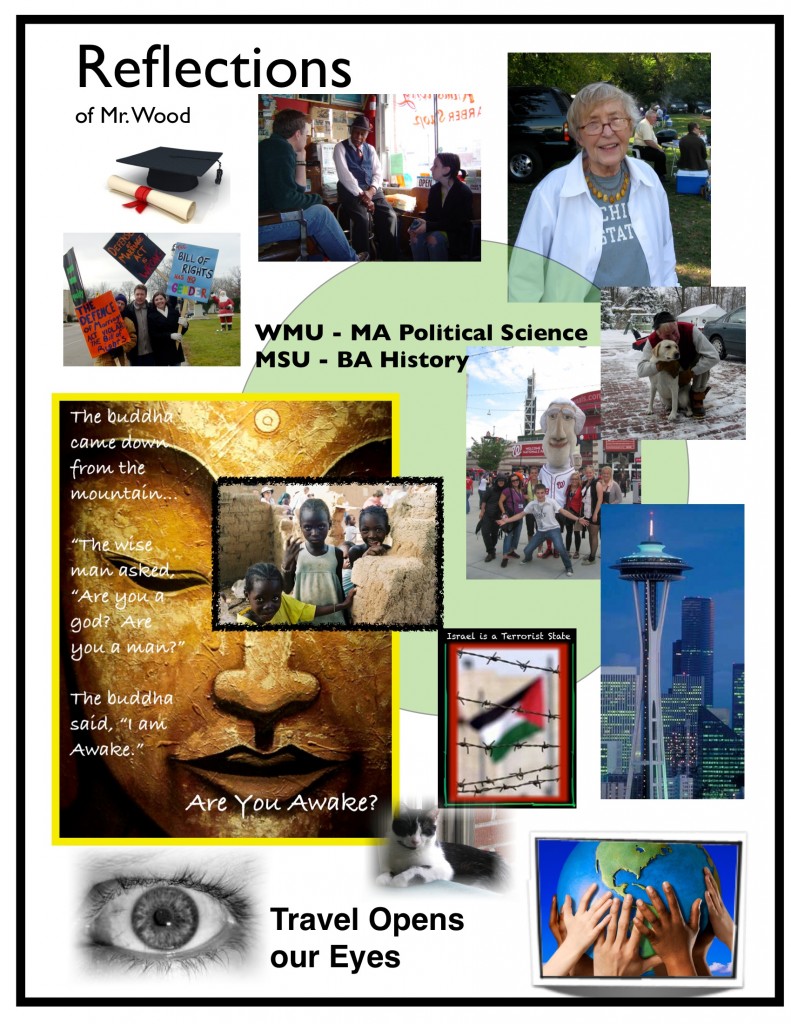 required to reflect come in, sit down, and get moving  as soon as you enter the room – that means  before the bell rings.
The fact that you bring your book and write will fulfill the five point project assignment of the activity.  If you don't have your journal you'll get a zero.  If you have an excused absence it will not count against you and you do not make up the reflection.  If your absence is unexcused you'll receive a zero.  So make sure to get the absence excused.  I will also randomly select five journals on each prompt to keep and grade on a twenty point scale.  So, bring your book daily.  Do a good job on the writings.  Your journal will be returned the following day.  And at least in Government for the first semester this will be your entire project grade.
What to write?  Whatever moves you…I'll provide the prompt – you provide the insight.  Make sure to begin at the top of the first available page (front side) – with the date and the title of the prompt.  After that, you go where you think you need to go.  Sometimes the topic will move you…other times it won't.  Do your best either way.  We will often take time to discuss your writings either at that day, or the following.  And we may exchange journal books occasionally to see what kind of insights are swirling in one anothers' brains.
For this  assignment (Reflection Cover Creation), I want you to personalize your Reflections book.  Since everything on the pages inside of the book will reflect your thoughts – lets make the covers on the front and the back do the same.
Front Cover –  take a look above at my example above.  This is me.  This is my book.  Everything on it – whether I used a computer and created it on a single paper or if I went and glued items (photos, memento's, body parts) to the cover – they all relate to me!  This is a composition of who I am – what makes me tick.  I wanna know by looking at your cover what you are all about.  Make sure that you finalize the paper size so that  if you do it on a computer it does not overlap the journal book.  I will apply library book tape to protect your front and back.
Back Cover – take a look at my example below.  Select a quote  that reflects your philosophy of life.  I do not care what font you choose, nor the quote that you decide upon.  What I want is for you to select a quote that is what you're all about.  Make sure , like on the front cover to check the size so that if fits without going over the edges and provide the author of the quote below his/her words.  Please spell check the quote.   I will apply library book tape to protect your front and back.
That should do it.  Then we'll use the books regularly to reflect on issues of the world so that when that when you come down from the mountain…and the wise men ask you, "Are you a god?  Are you a man?"  You will be able to answer,  with all confidence, "I am neither mr. wise man…"I am AWAKE?"