Go here for more information on DeBoer v Snyder.  Go here for coverage at the national level.
This week (DeBoer v Snyder), a lawsuit will commence in  Federal Court brought by April DeBoer and her longtime partner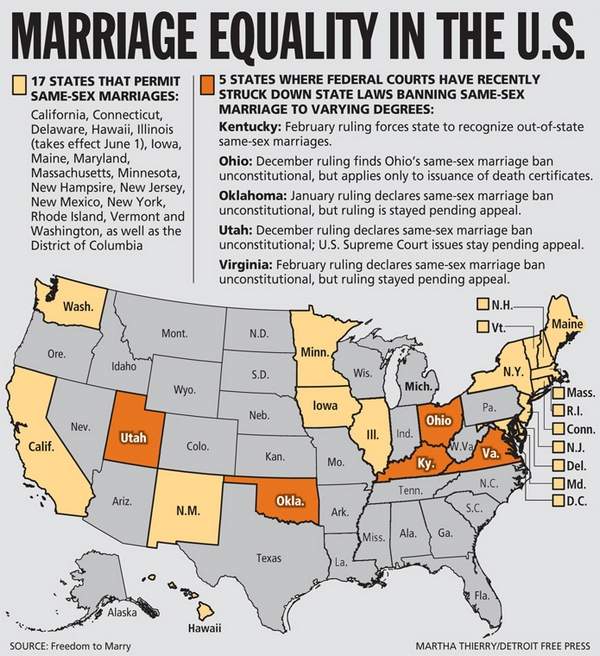 Jayne Rowse residents of Michigan challenging the state's DOMA law.  The two women, both nurses in Oakland County, seek to adopt the three special-needs children they have been raising together since 2010. Each has already exercised her right to adopt as a single parent. But under a Michigan law that forbids unmarried couples from jointly adopting, neither is legally recognized as the legal parent of her partner's children.  The case challenges the constitutionality of Michigan's law  passed in 2004 which defines marriage as only between and a woman.
The state of Michigan is defending the law based on its 10th Amendment rights of the state to determine its own sovereignty  on the issue.  The 2004 Constitutional Amendment was passed by a majority of Michigan citizens.  April and Jayne claim that their 14th Amendment rights of equal protection are being violated.
By the time a new law permitting gay marriage in Illinois takes effect June 1, same-sex couples will be free to marry in at least 17 states.  Four more states either recognize civil unions between gay couples or honor same-sex marriages consecrated elsewhere.
In Michigan and 32 other states where state laws or constitutional amendments bar same-sex partners from marrying, elected officials defending the status quo are under siege. Freedom to Marry, a nationwide advocacy group, counts more than 40 pending lawsuits in which LGBT plaintiffs seek to invalidate restrictions on same-sex marriage.
Stay tuned….