Girl Rising will be playing at Cinema Carousel in Muskegon at 7:30 PM on Thursday, May 9.   Go here for more information.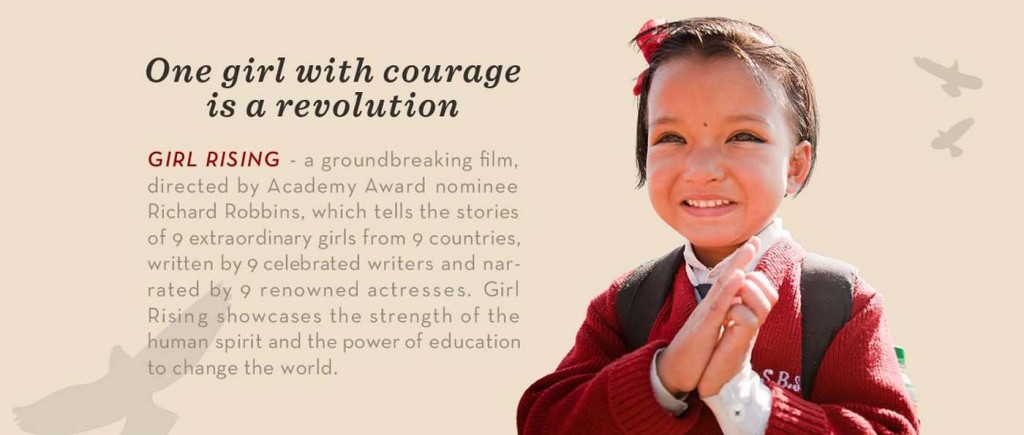 Here's what we are going to do.  I can't go to the movie because I'll be in Washington D.C. with Close Up.  But I'm going to try to help you work through the ticketing process…its a bit complicated.  Girl Rising is not a regularly scheduled movie.  It's a one time deal – private showing – in which you must purchase tickets online.  That can be a real problem if you do not have a VISA card.  So first talk to your mom and your dad, aunts or uncles, or granny and see if they would like to go with you – and if they can purchase your ticket online.   If that doesn't work I will be in school  through Friday May 9 – you can give me $10 and I will VISA your ticket online – and print out the ticket for you.
We are also holding a drawing for free tickets.  Mrs. Schroeder (retired 2011) bought five.  I bought five.  If anybody else you knows would like to donate for this cause we will purchase more than ten tickets to give away on Thursday May 2. In order to win the tickets you must do the following:
View the movie trailer

here

.  
Read a movie review

here

.
Write an essay (150 word minimum) on why you want to go
Send it to Mr. Wood at bobwoodmsu@gmail.com on google docs
or bring in a hard copy typed – 12 point font / 1 inch margins
All qualifying essays will be placed in a hat – we'll draw ten winners
If you don't get a free ticket – that still gives you time to buy one.
The catch is if you WIN THE TICKET – you've got to go!  So don't enter if you cannot go to the movie.  We don't want somebody to take a ticket and then waste it.  To insure that doesn't happen – you can get your winning ticket from Mrs Bejarano on Wednesday May 8.  We'll announce the winners this Wednesday May 1.  That gives you a week to set up a ride.  If you cannot go tell Mrs. Bejarano – we will draw again and give the ticket to somebody who can go.
Please – try to see this movie – you will truly be inspired – and awakened to the spirit and courage of some amazing young girls.