•  For this study we will begin here with a 2011 Frontline Investigation "WikiSecrets".   Go here to access Wiki leaks.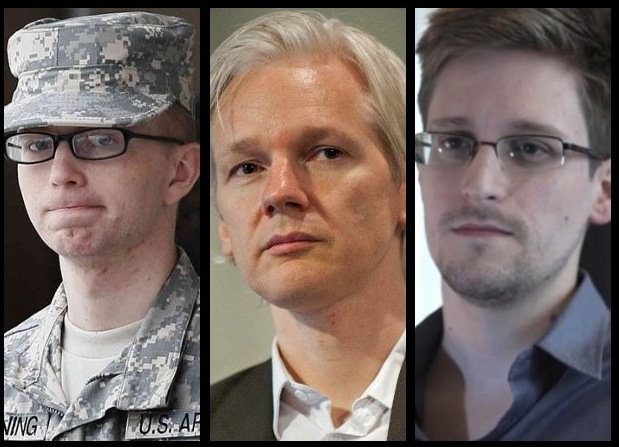 • Bradley Manning stands at the center of the biggest military intelligence breach in U.S. history — the leaking of more than a half million classified documents on the WikiLeaks website throughout 2010.  Bradley E. Manning, was the Army intelligence analyst who's charged with handing them over.  Who is Bradley Manning, and what does his story tell us about how and why the secret cache of documents may have been leaked? In WikiSecrets, FRONTLINE correspondent Martin Smith gains exclusive access to those closest to Manning Smith also examines the events surrounding the publication of the leaked documents, interviewing key players like WikiLeaks founder Julian Assange; Assange's former colleague Daniel Domscheit-Berg; and Adrian Lamo, a well-known figure in the cyber underground who eventually turned Manning over to the authorities and is now living in an undisclosed location over fears for his safety.
• Next we'll dig a little deeper on Jullian Assange, WikiLeaks founder with a 2013 Australia Sixty Minutes interview with Assange.  For over the past year and a half Assange has been provided protection from British authorities and has lived in the Ecuadorian Embassy in London.   If he leaves the embassy he will be arrested and deported to Sweden, where it is believed he will be extradited  to the USA for prosecution on the Daniel Manning incident.  Go here to watch a two part Sixty Minutes USA interview with Assange in 2011 .  Go here for a BBC 2012 interview with Assange via satellite from the Ecuadorian Embassy in London.
• Finally we'll take a look at Edward Snowden.   Born June 21, 1983, Edward Snowden is an American computer specialist, a former (CIA) employee, and former (NSA) contractor  who disclosed up to 200,000 classified documents to the press in May 2013. Details released from the cache have revolved primarily around the NSA mass surveillance program.  Snowden's release of NSA material, called the most significant leak in U.S. history were based on disclosures Snowden leaked to The Guardian and The Washington Post while employed by NSA contractorBooz Allen Hamilton.    A subject of controversy, Snowden has been variously called a hero, a whistleblower, a dissident, a traitor, and a patriot.  According to Snowden, his "sole motive" for leaking the documents was "to inform the public as to that which is done in their name and that which is done against them."  The disclosures have fueled debates over mass surveillance, government secrecy, and the balance between national security and information privacy. Snowden is considered a fugitive by American authorities who have charged him with espionage and theft of government property.   He is currently living in Russia under temporary asylum.
Go here for part one of a two part interview  with Edward Snowden taped by  The Guardian in  June of 2013.  Go here for part two.  And here for brief speech he made recently in Russia accepting the Sam Adams prize for integrity in intelligence.  Go here for the Wiki Leaks video concerning this same event.
And finally a Christmas message from Edward Snowden.
• Your Assignment – Find a solid news article (story or editorial) about one of these three individuals, or a related topic.   Choose some issue that has piqued your interest and run with it.Take that article apart the way we did last year in Government and Economics.   The key obviously, is a solid article.  Go here for active reading and reflection writing guidelines.  The Active Reading portion of the assignment counts 20 points.  Your final reflection is worth 80.   This assignment is to be done individually and is due at the beginning of the hour on Monday December 16.